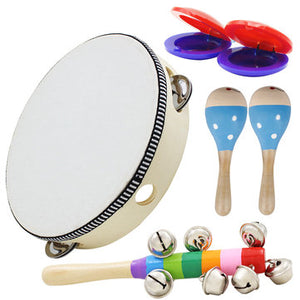 Applicable Crowd:Boy, Girl
Features:Hands Sensing Practice
Capacity Training:Vision , manual brain, grasp, interest cultivation, intellectual development, sense, hearing
-6 Pieces Hand Percussion Musical Instrument Toy for Kids Music Learning KTV Party Playing Toy
-Colorful appearance and lovely design make it attractive to children.
-Smooth surface, non-toxic and safe for children to play.
-Great for developing children's musical talent and improve their sense of rhythm.
-Perfect gift for preschool kids, children, or toddler.
-Add much fun to KTV party, dancing, concert.
-Great toy to exercise baby's wrist, improve the sense of music and get lots of fun.
1 × Black side Hand Shake Rattle